April 2020
Posted by Jasmine
Getting outside every day is one of the best ways to keep our bodies and our minds healthy — and it's especially important in a stressful and uncertain time like the one we're going through right now.
There's a growing body of research that confirms the benefits of outdoor play for children. At The Nature School we engage our students in play that encourages them to build, climb, be creative, and get messy! Ideally, kids should be getting these kinds of opportunities every day.
With this in mind — and with schools and recreational amenities closed across the province — we've come up with some simple ideas for parents and children to enjoy nature and outdoor play together.
1. NATURE ART
On a walk through a forest area or your neighbourhood, encourage your child to collect natural materials that inspire them to create. These items can then be brought back to a central location to make nature art works. Your child may decide to make patterns, spirals of colour, lines, or groupings of similar materials.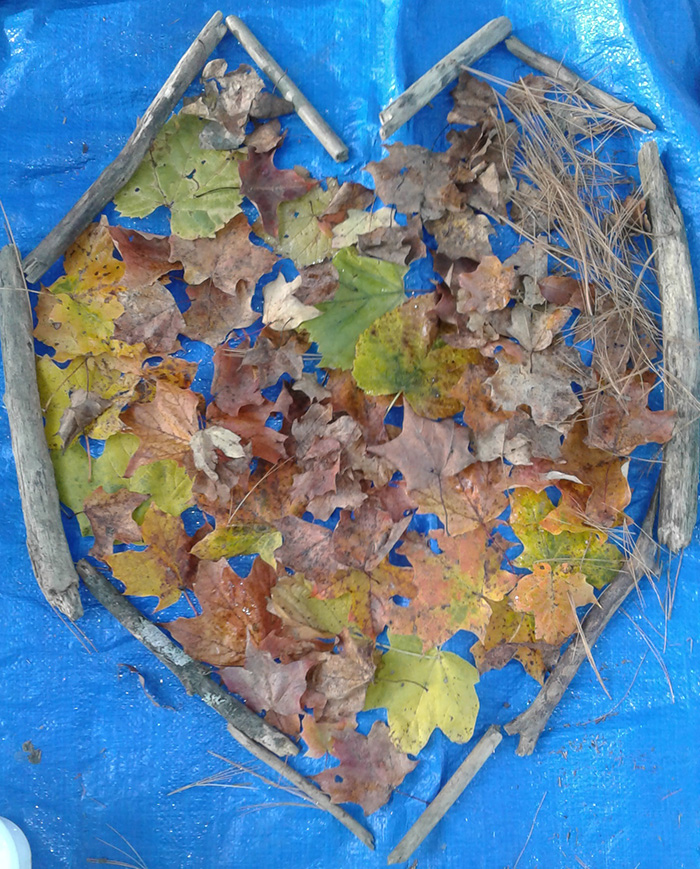 Materials:
Extension Activity/Debrief Questions:
This activity can be used as an introduction to patterns. Ask your child about patterns they can find in nature, including symmetry in trees and leaves.
Back at home, children can explore local trees by doing bark rubbings using crayons and paper. These are a great way to look deeply into the patterns in tree bark and make comparisons between the different species of trees.
2. BARK RUBBINGS
While walking through the woods, or in your community, have your child find a tree with interesting bark. Using blank paper and a crayon, have your child place the paper on the bark and rub with the crayon to see the pattern of the tree's bark coming through.
This can also be done with materials that are found on the ground, like pine needles, leaves, or bark that has fallen off a tree. Have the children collect items that they want to trace or rub.
Materials:
White paper
Large crayons, charcoal, or pastels
Clipboards
Extension Activity/Debrief Questions:
Have your child do bark rubbings in different locations, and on different trees to compare the bark of the trees in their neighbourhood.
Leaves are also a great item to put under paper and trace or rub to see their patterns. Discuss how many different trees you can find on a walk.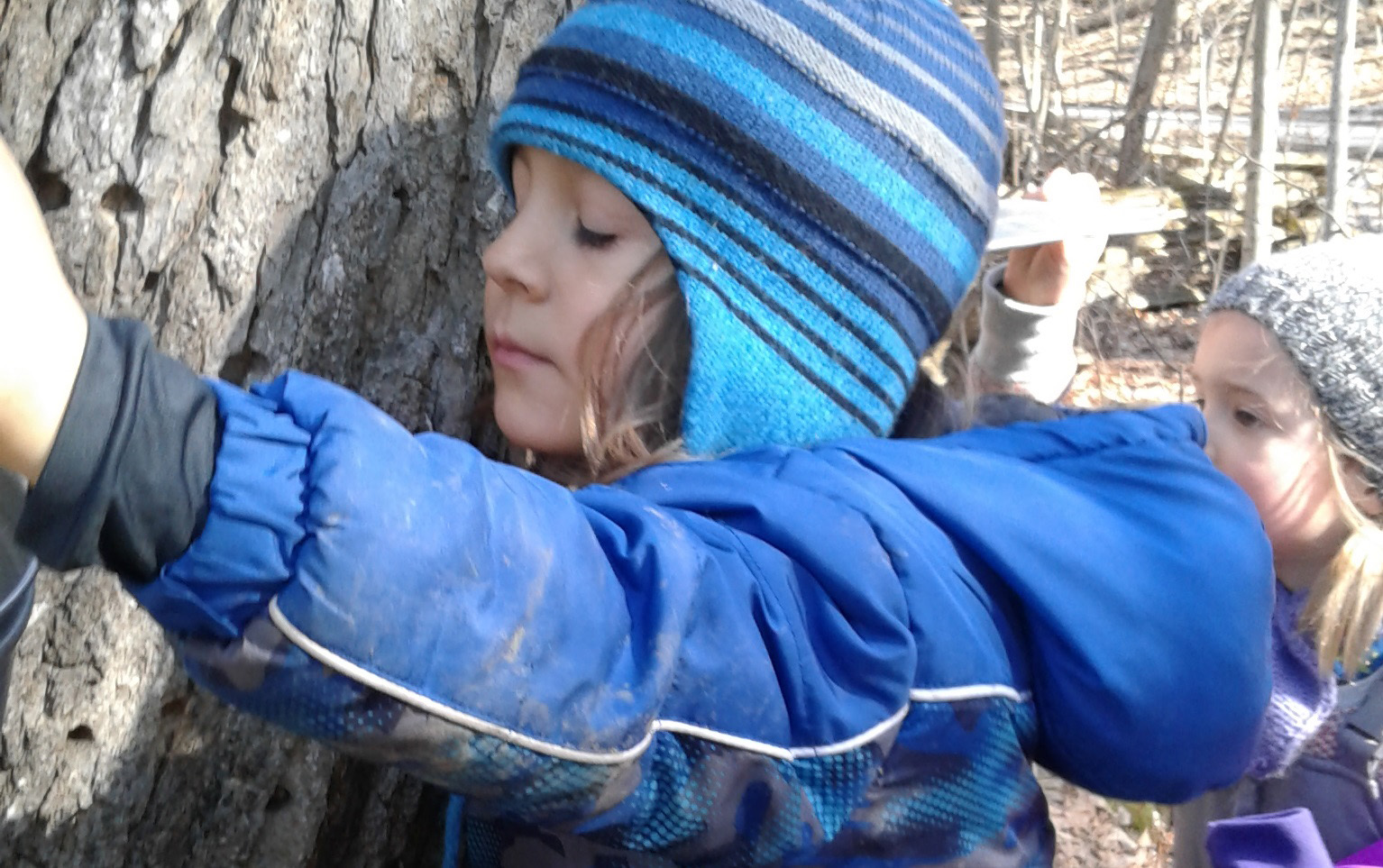 3. BUG CATCHING AND INSECT HOMES
Encourage your child to turn over logs, look under rocks, and discover the world of the insects, bugs, and decomposers that call these dark places home.
If available, use small jars or containers to collect the insects to get a closer look at these incredible creatures.
Materials:
Extension Activity/Debrief Questions:
Upon finding creatures from a forest or meadow, children can build miniature homes for their friends, thinking critically about what a particular insect or bug would need to feel comfortable in this small world. Ask your child what a worm might want to be surrounded by in comparison to a butterfly.
Back at home, children can make vermi-composters for their organic waste. This is a great project to teach children about the need for our decomposers, and a great long-term pet!
Remember to release any creatures back where you found them after studying.
4. CLAY CREATURES
Break off a golf ball-sized portion of clay for your child. With the clay and found natural materials, encourage your child to use their imaginations to create creatures, faces on trees, or anything else the materials inspire them to build.
For additional exploration, use buckets to collect more loose natural materials.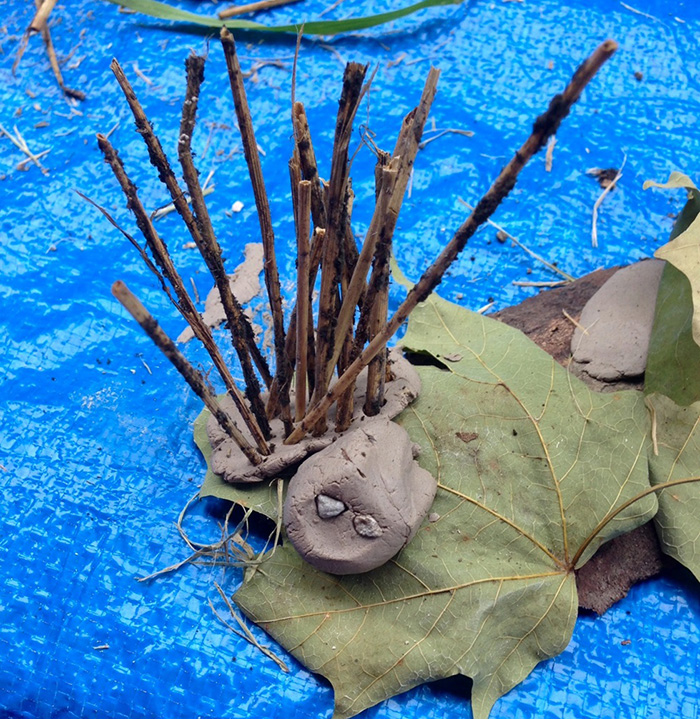 Materials:
Clay
Sticks
Willow branches
Dogwood branches
Pinecones
Buckets for collecting more natural materials
Extension Activity/Debrief Questions:
Once children have created their clay creature, parents can provide opportunities for further discovery by asking their child to think about its habitat and unique qualities. What is the creature's name?
Children can use recycled shoe boxes and other recycled materials to create a habitat for their creature.
5. DEN BUILDING
Work together to gather larger sticks and logs from a forest area. With the help of a parent or guardian, children are encouraged to create a space they could fit in, using the materials they found.
Discussions around animal habitats and shelters can be used as a way to encourage children to think about different structures that occur in the natural world.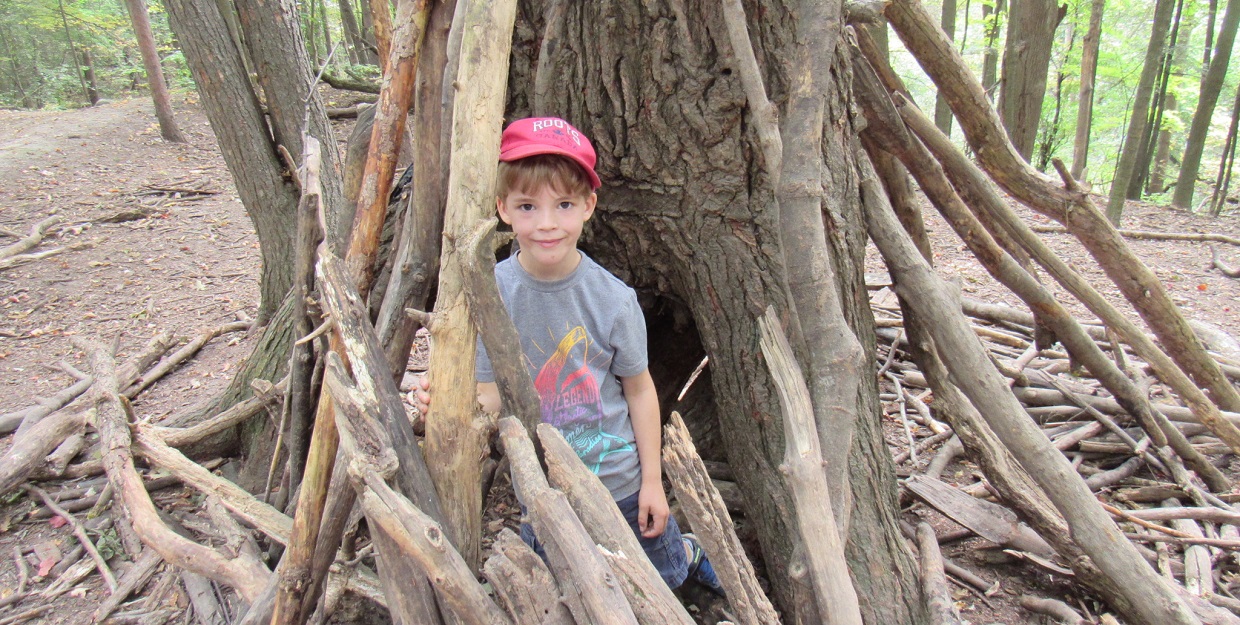 Materials:
Large logs
Ropes (optional)
Tarps (optional)
Extension Activity/Debrief Questions:
Once your child has completed their structure, you can encourage further learning by discussing how they came up with their design, and what animal shelters they used for inspiration.
Remember to safely dismantle any structures and return materials to where you found them, leaving the space as it was for the next visitors.
Back at home, soft indoor materials such as sheets, pillows, ropes, and burlap can be used to create safe, magical places for youngsters.
6. MUD KITCHEN
In a mud kitchen, children are invited to create "delicious" treats using found materials. This promotes development through sensory and imaginative play, role playing, and hands-on exploration.
As children play and experiment in a mud kitchen, they develop language through descriptive words, scientific questioning, scientific exploration, and storytelling.
As your child concocts their creations, help ignite their creativity by encouraging them to think about the different ingredients they might add.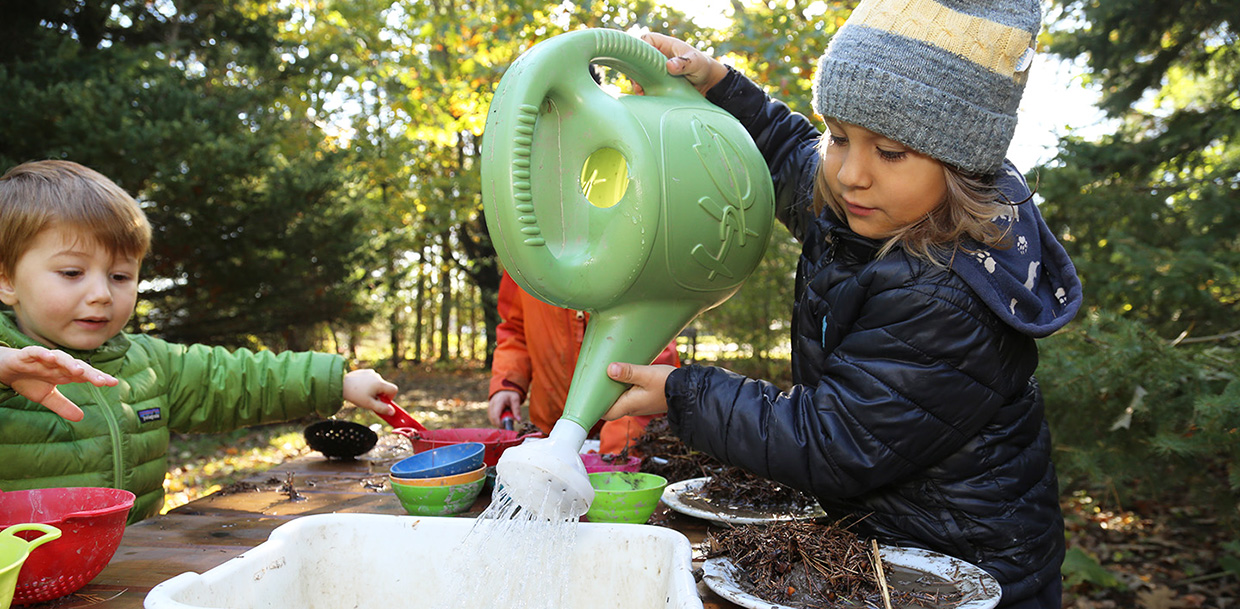 Materials:
Kitchen tools, plates, pots, muffin tins
Watering can
Mud
Bins for mixing
Buckets for collecting ingredients
Extension Activity/Debrief Questions:
Children should be encouraged to describe the creations that they make in the mud kitchen, and list their ingredients.
Back at home, children can draw images of their finished products for a cookbook.
7. LOG BALANCING
Active and physical play is essential to a child's development, as it helps them come to an understanding of their actions and decisions.
Taking a risk, even a small one, like jumping from one stump to the next, provides children with the opportunity to think about and estimate distance, their ability to cross this distance, the actions involved in flight and balance — and, most important, to trust their intuition.
When walking through a forest, children are often drawn to fallen logs. Encourage your child to walk along the logs and stumps, and perhaps find ways to create bridges or walkways with fallen material.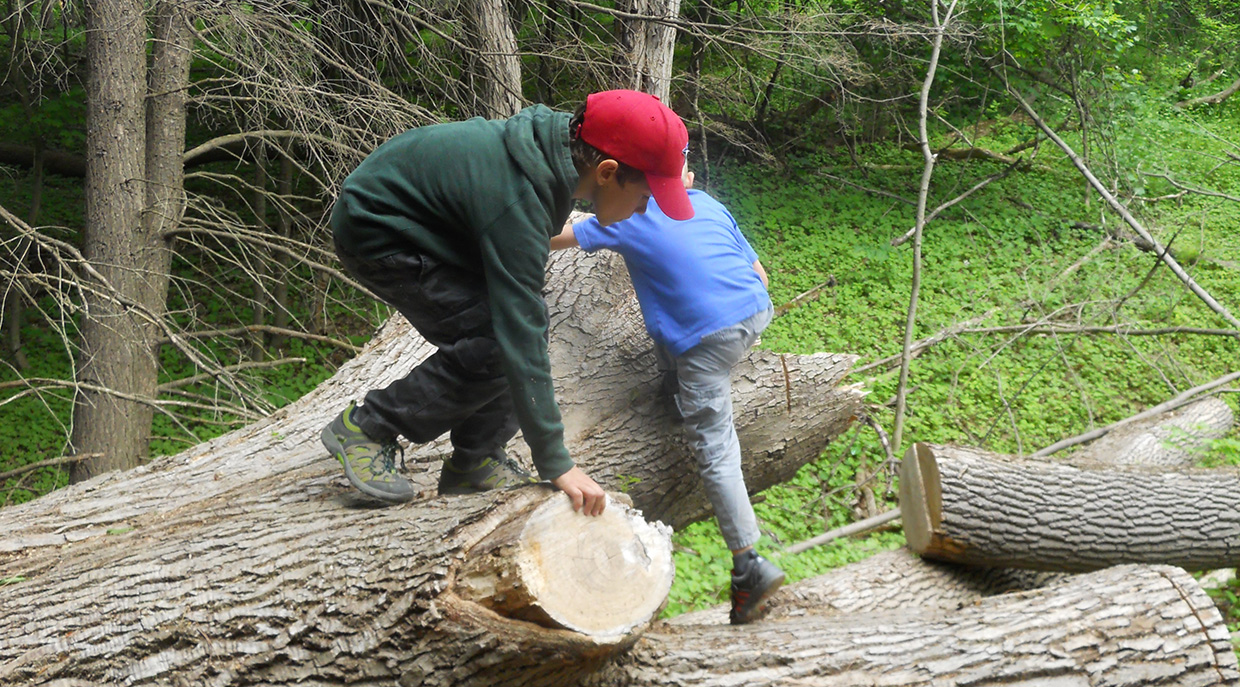 Materials:
Extension Activity/Debrief Questions:
Creating safe spaces for children to fall and get back up is an important part of teaching them resilience and perseverance. Asking your child about their experiences and providing positive feedback on their ability to get back up or manoeuvre on the logs will help to create confidence and build up self-esteem.
While this activity may be more challenging to take home, using the experience as a reference when a child says "I can't" gives them the gentle reminder that they are capable beings.
At home, you can try placing lines of tape on the ground for your child to walk along. Painter's tape is a good option to use and usually comes off easily.