Children's programming at Kortright is designed by Ontario Certified Teachers (OCT) and led by experienced outdoor educators.
All of our programs involve an adventure into a woodland setting. Children interact with the natural environment through creative play, crafts, games, stories and more. This child-led approach to learning is exploratory, inquiry-based and fun.
For more information about our children's programming, please contact Customer Service at 416-667-6295 Ext 602.
SUMMER NATURE DAY CAMPS
UPDATE: TRCA 2020 Summer Camps
Posted Thursday, May 21, 2020
Toronto and Region Conservation Authority's (TRCA) leadership have spent the last two months talking to experts about the constantly evolving landscape in which we are operating. It has become abundantly clear that TRCA's in-person program offerings cannot realistically be delivered in the current COVID-19 environment, as our number one concern remains the health and safety of our staff and participants.
While we have not yet received public health guidelines from the government for the safe operation of day camps in Ontario, TRCA leadership have determined that the anticipated future restrictions would materially impact our ability to provide TRCA's signature level of care that our campers deserve and have come to expect.
TRCA's has a low-risk threshold when it comes to the well-being of our participants. Erring on the side of health and safety for all the right reasons, social distancing creates too many challenges for our dedicated staff to overcome in order to appropriately care for your children.
This announcement is obviously difficult for all those involved, as we can't imagine a summer without children running around our facilities enjoying the stimulating programming put on by our staff. However, we do know that we are making the right decision, as health and well-being remains our number one priority in these trying times.
All registrants affected by cancelled programming will be receiving a full refund in the coming weeks.
We encourage families to take part in TRCA's #AtHomeWithNature series on Facebook and other virtual programming, including cultural and education offerings, which are all listed on our event calendar.
The Kortright Summer Nature Day Camp is for children 4-14 years of age who like nature and spending time outdoors. Each week of camp has a new theme, so you can come for just a week or stay for the whole summer.
In addition, we offer a Kinder Camp program for youngsters 4 and 5. Kinder Camp has been designed with lower staff-to-camper ratios, rest breaks and age-appropriate activities to give our youngest campers the best experience possible.
---
BEFORE YOU BOOK!
Please read our cancellation policy:
Written notification of a cancellation must be received. Cancellations made at least four weeks before the start of your session will receive a refund of 75% of the fees. Cancellation made within a four-week period will not receive a refund. There is no refund for camp days missed.
---
ABOUT KORTRIGHT SUMMER NATURE DAY CAMP
Our camp leaders are mature adults with many years of experience working with children. Home base is our spacious, air-conditioned Visitor Centre, which the campers will be in and out of throughout the day.
Campers are placed into groups of approximately 10 with children of similar age.
Camp Highlights:
Discover wildlife up close and personal with a live animal show! Campers have the chance to meet and interact with fascinating live animals and their handlers.
Experience outdoor cookouts! Each Wednesday we will provide lunch and snacks for the campers. We will continue a great outdoor tradition by roasting hot dogs over a campfire. Alternative meal provided for poor weather conditions or most dietary restrictions.
Every Thursday evening, a hearty and kid-friendly meal is provided followed by a campfire program including marshmallows, activities, skits and songs! All campers must be signed out at 6:00 p.m., but parents and campers are welcome to stay for the campfire until 7:00 p.m.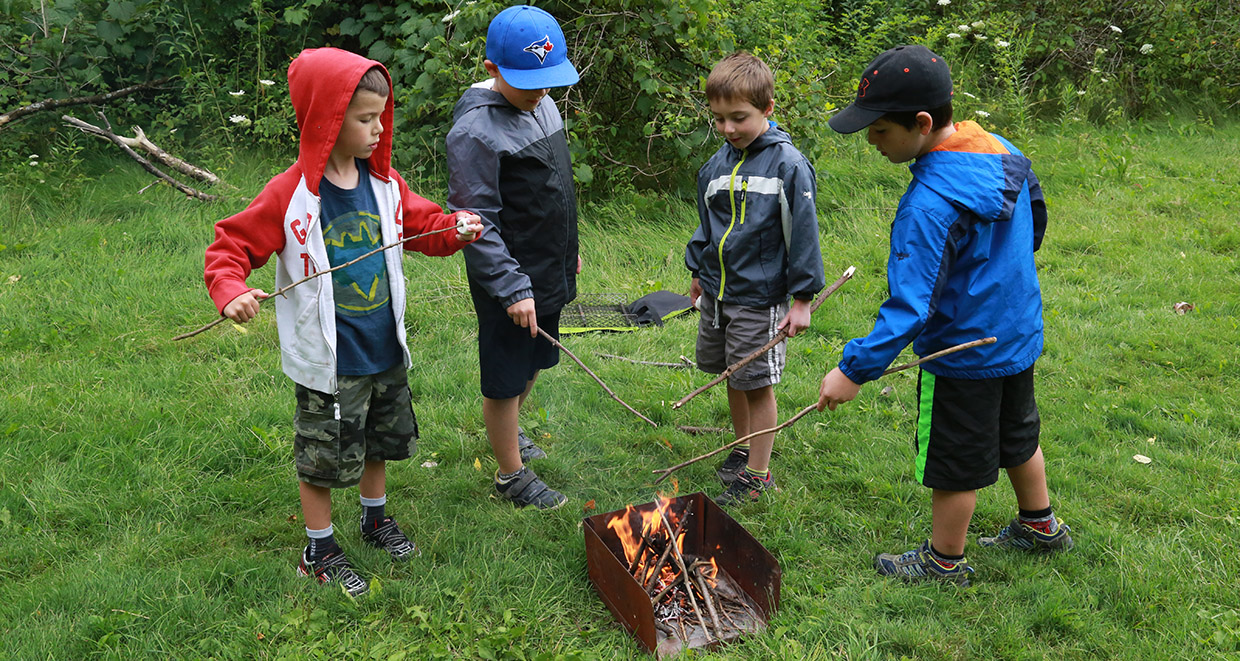 WHAT TO PACK
We are an outdoors based camp and will spend a good portion of the day outdoors. Clothing must be practical and comfortable. Please bring clothing and footwear that can get dirty. Make sure all personal belongings fit into one bag. Please carefully check the list below on what to bring to camp.
Please clearly label all your child's belongings with his or her name.
---
Every day ensure your child has:
Sunscreen SPF 30 or higher (please apply sunscreen on your child before coming to camp as well as packing it for them to use during the day)
An insect repellent containing DEET or Icaridin
Wide-brimmed hat
Reusable water bottle filled with water
Backpack
Closed-toed, flat-soled shoes (such as running shoes)
Lunch* (A lunch is not required on Wednesday cookout lunch days, but you may provide snacks that day)
* Due to allergies of some campers, please only pack nut-free lunch and snack items.
---
On the first day of camp, you are welcome to pack the following in a separate bag and have your child leave these items at camp for the week. If your child does not leave these items at camp, please ensure that they bring them every day instead:
Long pants and a sweater
An extra set of clothes: shirt, socks, shorts, underwear
Rain gear: rain jacket, rubber boots
---
Optional items to pack:
Sunglasses
Inexpensive camera
---
Please do not bring:
Mobile phones (your leaders will have phones in case of emergency)
iPod, video games or other electronic devices
Money
Any kind of aerosol sprays
Knives or hand axes
---
CAMP HOURS
Camp hours are 9:00 a.m. to 4:00 p.m.
Drop-off is between 8:45 a.m. and 9:00 a.m. at northwest corner of the Visitor Centre parking lot.
Before and After care is offered at $25/child per day starting at 8:00 a.m. and ending at 5:30 p.m. A weekly Before and After care option is available for $100.
All campers at camp more than five minutes after the camp end time will be transferred to the After Care program; applicable fees apply.
This is a boxed content block. Click the edit button to edit this text.
This is a boxed content block. Click the edit button to edit this text.
LITTLE SAPLINGS PARENT & TOT PROGRAM
Recommended for children ages 1 to 5.
In this weekly program, youngsters will explore a new nature theme each week. The format allows for consistent structure with flexible content. Parent or caregiver participation is required.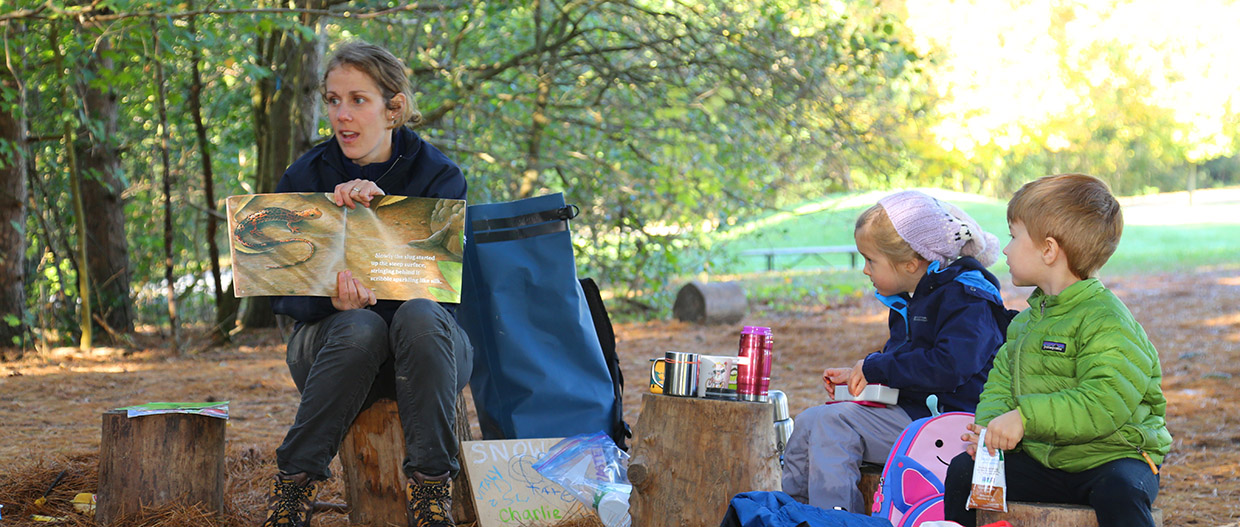 Highlights
Outdoor activities such as collecting, hiding, piling, catching and exploring nature.
Indoor activities including fun crafts, hands-on experiments and sensory games.
Circle time with structured sharing, singing and engaging stories.
Free-time indoor activities with exploratory natural touch items, puzzles, games and toys.
Your fee includes park admission, so you can stay after your session and enjoy the trails at your leisure.
Pricing
• Spring, Fall: $130
• Winter: $65
FALL 2020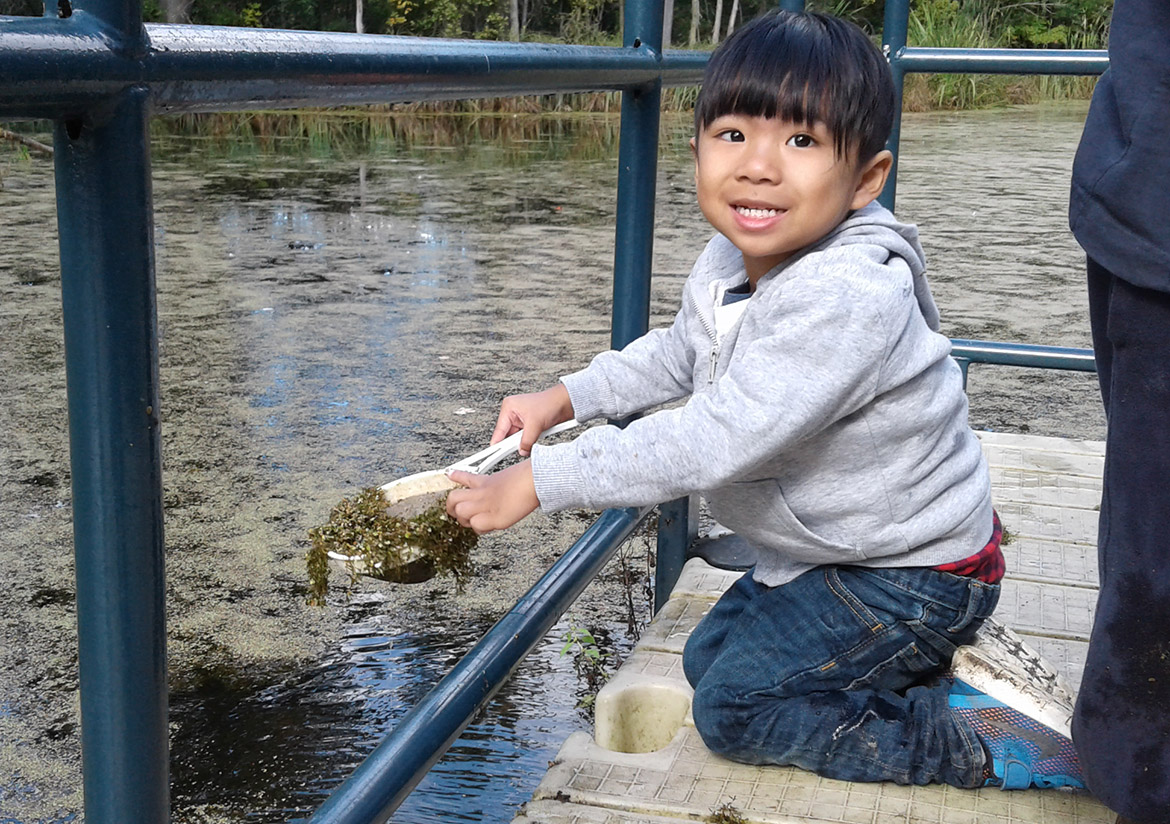 SATURDAY PROGRAM
9:00 to 10:30 a.m. OR 11:00 a.m. to 12:30 p.m.
Saturday September 12 to Saturday November 7 (except October 10)
SUNDAY PROGRAM
10:00 to 11:30 a.m.
Sunday September 13 to Sunday November 8 (except October 11)
MONDAY PROGRAM
10:00 to 11:30 a.m.
Monday September 14 to Monday November 9 (except October 12)
---
Advance registration required. Sessions are 1.5 hours in duration and are recommended for children ages 1-5 years accompanied by a parent for the duration of the program. Minimum registration required for program to run.
---