The Kortright Centre for Conservation is excited to offer nature-based Forest School programs for children ages 2½ to 10 years old.
Program facilitators are adults who are either certified Forest School Practitioners with Early Childhood Education Certification or are Ontario Certified Teachers with degrees in Outdoor Experiential Education.
Each day begins with an adventure in a woodland setting. Children interact with the natural environment through creative play, shelter building, making woodland crafts, sharing stories, and other activities.
Advance registration required. Call for details: 905-832-2289 x 239.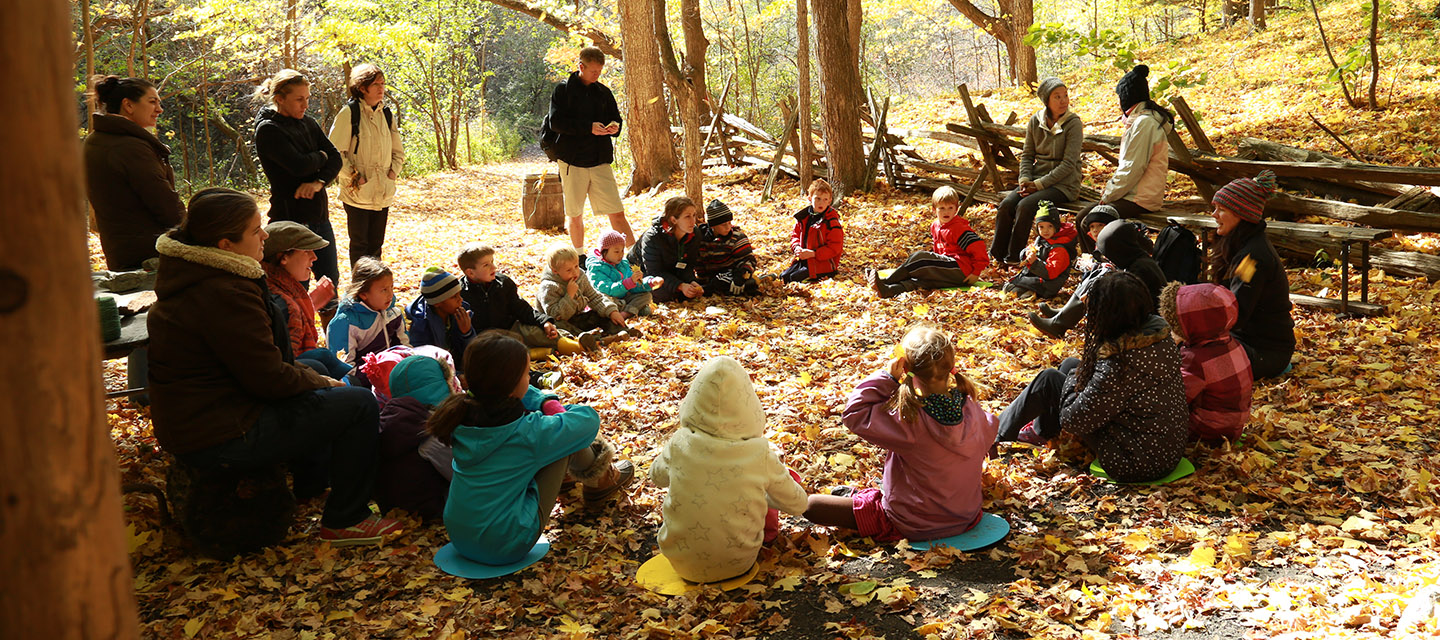 [/spb_boxed_content]
PROGRAM DATES & FEES
PROGRAM DURATION
---
PRICING
$300 for 8 weeks (Spring and Fall sessions)
---
FAQs
FOREST SCHOOL AT KORTRIGHT:
FREQUENTLY ASKED QUESTIONS
What is Forest School?
"A Forest School provides children with regular and repeated access to a natural space, as well as child-directed, emergent and inquiry-based learning." — Forest School Canada.
---
What will my child do each day?
Children enrolled in Forest School are given the opportunity to interact with nature through the use of loose parts, creative play, an outdoor campfire, knots, magic spots (sit spots), nature stories, den building, identifying flora and fauna, and whittling wood. We allow children to explore muddy puddles and make collections of and work with natural resources.
---
How is the day structured at Forest School?
The Forest School approach happens over time but has a structured, yet relaxed atmosphere. The Forest School leaders focus on what the children can do; thus building self-confidence, self-esteem, and autonomy within a shared, collaborative, and convivial environment.
The children discover nature through open ended play activities employing natural resources. Children learn in a way that is age appropriate and personalized.
The shape of the day will start with arrival and morning welcome, as well as invitations to open ended loose parts play. This will be followed by a morning adventure, snack, fire, and creative exploration (making, building, sharing stories).
---
Where will the programming take place?
The Forest School will have a main base, located 500 meters from the Kortright Visitor Centre in the heart of our Sugar Maple Forest. A covered hut, fire pit, benches, and the forest will act as the participants' classroom.
---
What kind of natural environments will my child be engaging in?
Every session will consist of a morning adventure into a forest, meadow, stream, wetland, or garden setting. We will set out to our destination to explore, plant, play, make-believe, do art, make music, dance, sing, read and share stories, create, run and jump in puddles, collect natural curiosities, learn practical skills, observe wildlife, scoop and pour, build, laugh, and wonder.
---
What if I need to get in touch with one of the teachers during the program?
All of the program leaders carry a two-way radio that allows them to stay in direct contact with the Kortright Visitor Centre. If there is ever a need to pick up your child early, or any other emergency, the program leaders will be made aware.
---
Who are the teachers who will be running the program?
Program leaders are mature adults, with one or more professional designations including: Forest School Practitioner, Ontario Certified Teacher and Outdoor Experiential Educator. Each program leader is First Aid Certified and holds a current Vulnerable Sector Police Record Check.
---
What is the ratio of adults to children?
Our ratio is 1 adult to 6 children. The maximum number of children for the program is 12.
---
What will happen in inclement weather?
The three-hour program is held completely outside. In the event of severe weather (thunderstorms, heavy rain, or winds stronger than 30km/h) an indoor space is available.
---
Does my child need to be potty trained?
Yes. As Forest School takes place outdoors in the woods, we do not have a changing facility. Please ensure your child is potty trained before enrolling in Forest School.
---
Where do I drop off and pick up my child?
Pick-up and drop-off will occur in front of the Kortright Visitor Centre. Staff will be there to meet parents at the beginning and end of each day.
---
What if my child needs to use the bathroom while outside?
A temporary washroom will be located near the outdoor classroom.
---
What does my child need to bring to Forest School?
All tools and materials for the program will be provided. You will need to bring items for your child such as a change of clothes, water bottle, rain gear, bug and/or sun protection. Download the packing list.
---
Is a snack provided?
Yes, a mid-session snack is provided. We will provide nutritional snacks, some of which will be prepared on the open fire with the children. Individual dietary requirements can be met; please advise us of any such needs when booking the program.
---
How do you ensure the safety of each group?
The environment in which we work is risk-assessed prior to any activities to make the space as safe as necessary rather than as safe as possible. Age-appropriate risk taking is encouraged at Forest School so as to educate children to manage their own abilities and gauge safety.
When introducing tool use, we have a structured approach. Every time a new tool is being introduced, children are closely observed to ensure proper use and procedure.
Fire lighting and fireside cooking are favourite activities at Forest School. We approach fire activities responsibly and safely, starting with the lighting of a very small fire until children become accustomed to choice of fire site, components required to start a fire, appropriate selection of tinder, kindling, lighting, maintenance, and building. Ongoing interactions are aimed at developing a healthy respect for fire and fire use.
PACKING LIST
FOREST SCHOOL PACKING LIST
CLOTHING HINTS
Insulation
Natural fabrics such as wool or silk work well as an inner layer. The key for this layer is to wick moisture away from the skin and insulate the skin with a breathable layer in order to keep warm and dry.
Middle Layer
This is another insulation layer that creates 'dead-air space' between the skin and the elements. This airspace helps in keeping your child warm. Wool sweaters (Merino wool is exceptionally warm and soft on sensitive skin) and fleece also tends to work well.
Outer Shell
This layer should be waterproof, wind-proof and breathable.
---
WHAT TO PACK
Year-Round
Small backpack
Water bottle
Two extra changes of clothes (including socks and underwear)
Seasonal
SPRING

FALL

Rain gear (water-proof boots, splash pants, jacket)
Sneakers for running (please no open-toed shoes)
Sun hat as needed during warmer months
Windbreaker
Warmer sweater or jacket during cooler or rainy days
Bug jacket
Sun screen as needed

Rain gear (waterproof boots, splash pants, jacket)
Sneakers for running (please no open-toed shoes)
Sun hat as needed
Warm jacket (fleece or other breathable fabric is ideal)
Bug jacket

SUMMER

WINTER

Rain gear (water-proof boots, splash pants, jacket)
Sneakers for running (please no open-toed shoes)
Sun Hat (during warmer days)
Lightweight clothing (silk/cotton, synthetic fibers do not breathe well and may make your child feel uncomfortable)
Bug jacket
Sun screen

Two winter hats (must cover ears and stay on the head)
Balaclava or neck warmer (no scarves please due to risk of strangulation)
Two pairs of warm, water-proof mitts
Two warm, water-proof snowsuits
Two sets of warm, water-proof boots
Three base layers: thermal shirt and pants, middle layer, wool/fleece sweater (cotton is not ideal for cold weather conditions)