Plan an outdoor adventure at the Kortright Centre as part of your camp, daycare or youth group program, and discover the fascinating world of nature.
We offer a variety of fun and informative nature discovery programs, taught by environmental educators.
Most programs are ideal for children aged 6 to 14. For preschool children, we recommend the programs Bug Hunt and Nature Exploration.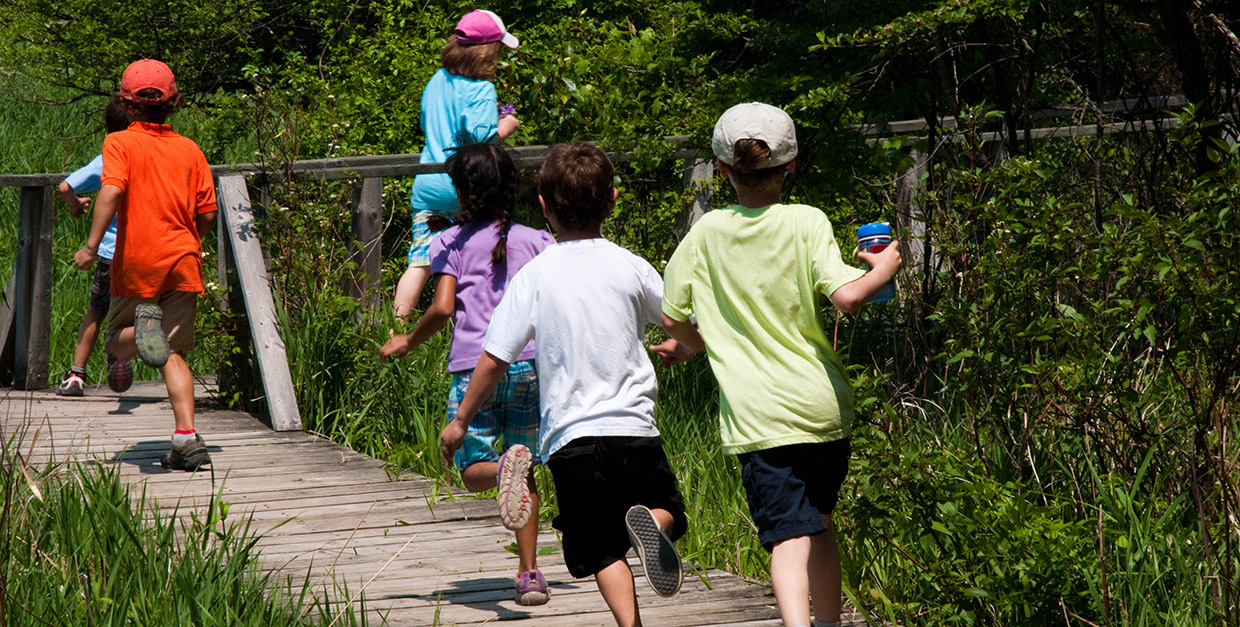 Price Per Group
(Up to a maximum of 30 participants) (Plus HST)
| | |
| --- | --- |
| Half-Day Program: | $200 |
| Full-Day Program: | $375 |
| Team Building and Low Ropes – Full Day: | $400 |
| Team Building – Half Day: | $220 |
| Two Half-Day Programs Booked on the Same Day: | $375 |
| | |
| Material / Maintenance Fees | |
| GPS/Geocaching: | $15 |
We are pleased to offer 1 complimentary admission to teachers and supervisors for every 10 participants.
All other adults $5.65
A 50% deposit is due one month before your visit.
Any two half day programs may be combined to make an
exciting full day program.
Prices subject to change without notice.
FIND A PROGRAM
ATTENTION GROUP LEADERS: Please contact us if you do not see a program that meets your needs. Our staff can modify programming to meet the requirements of a wide variety of group types.
BOOKING YOUR OUTDOOR ADVENTURE
All programs must be booked in advance.
Programs are 1.5 to 2 hours long. Morning programs are from 10 am to 12 pm. Afternoon programs are from 12:30 pm to 2:30 pm. (These times may be adjusted slightly to accommodate your travel arrangements.) Full day programs include a half hour lunch break.
Programs always have an outdoor component. Groups should dress for the conditions on the day of their visit. Before your visit, please discuss the importance of dressing appropriately for outdoor activities. On days of inclement weather the program will be modified to include some indoor activities along with the outdoor components.
Please note that most Kortright programs can be adapted for groups with special needs.
NEED HELP WITH YOUR BOOKING? Call 416.667.6295 x 602 (Monday to Friday, 8:30 a.m. to 4:30 p.m.).
Pizza

Homemade cheese or pepperoni pizza
Chocolate chip cookie
Whole apple

$6.99 + HST per person

Wrap

Wrap selection: Roasted turkey or grilled vegetables with pesto
Chocolate chip cookie
Whole apple

$7.99 + HST per person

Crispy Chicken Wrap

Breaded chicken, lettuce with light dressing on 10-inch tortilla
Chocolate chip cookie
Whole apple

$8.99 + HST per person
Beverages: All boxed lunches include one soft drink, juice or bottled water.
NOTE: Food orders must be placed at least one week prior to visit date.
---