Registration for Summer 2022 Nature Camps:
NOW OPEN
The Kortright Summer Nature Day Camp is for children 4-11 years of age who like nature and spending time outdoors. Each week of camp has a new theme, so you can come for just a week or stay for the whole summer.
Our 2022 programming includes leadership camps for youngsters ages 12-14 and 14-16.
Conservation Parks Members receive a 10% discount for camp registration. Please see below for fee information, and contact visitor services to get the discount.
TRCA IS NOW HIRING CAMP COUNSELLORS
Enjoy the outdoors this summer while gaining valuable experience working in an education environment. Lifeguard, visitor services, and other positions are also available.
VOLUNTEER OPPORTUNITY
The Kortright Centre for Conservation is looking for enthusiastic individuals to volunteer alongside our staff at Summer Nature Day Camp this year. Enjoy time outside this summer as you gain work experience and learn new skills!
Camp Information
Ages:
Campers are cohorted by age into the following groups:
• Bumblebees: Ages 4-5
• Chickadees: Ages 6-7
• Fireflies: Ages 7-8
• Cicadas: Ages 8-9
• Coyotes: Ages 9-11
• Leadership Adventures (LAs): Ages 12-14*
• Leadership in Training (LITs): Ages 14-16*
*Select weeks only
Camp Hours:

Monday to Friday, 9:00 a.m. to 4:00 p.m.

Extended Care:

Extended care is available from 8:00 to 9:00 a.m. and from 4:00 to 5:00 p.m.

Camp Fees:*
Ages 4-5


Register before February 22, 2022: $274/week




Register after February 22, 2022: $294/week




(Four-day camps: $216-$236/week)

Ages 6-14


Register before February 22, 2022: $264/week




Register after February 22, 2022: $284/week




(Four-day camps: $206-$226/week)

Ages 14-16


Register before February 22, 2022: $568/two-week session




Register after February 22, 2022: $588/two-week session

*Conservation Parks Members: Please contact TRCA visitor services to get a 10% membership discount.
Extended Care Fees:

$100/week

Cancellation Policy:
READ MORE HERE.
ABOUT KORTRIGHT SUMMER NATURE DAY CAMP
Our camp leaders are mature adults with many years of experience working with children. Home base is our spacious, air-conditioned Visitor Centre, which the campers will be in and out of throughout the day.
Campers are placed into groups of approximately 10 with children of similar age.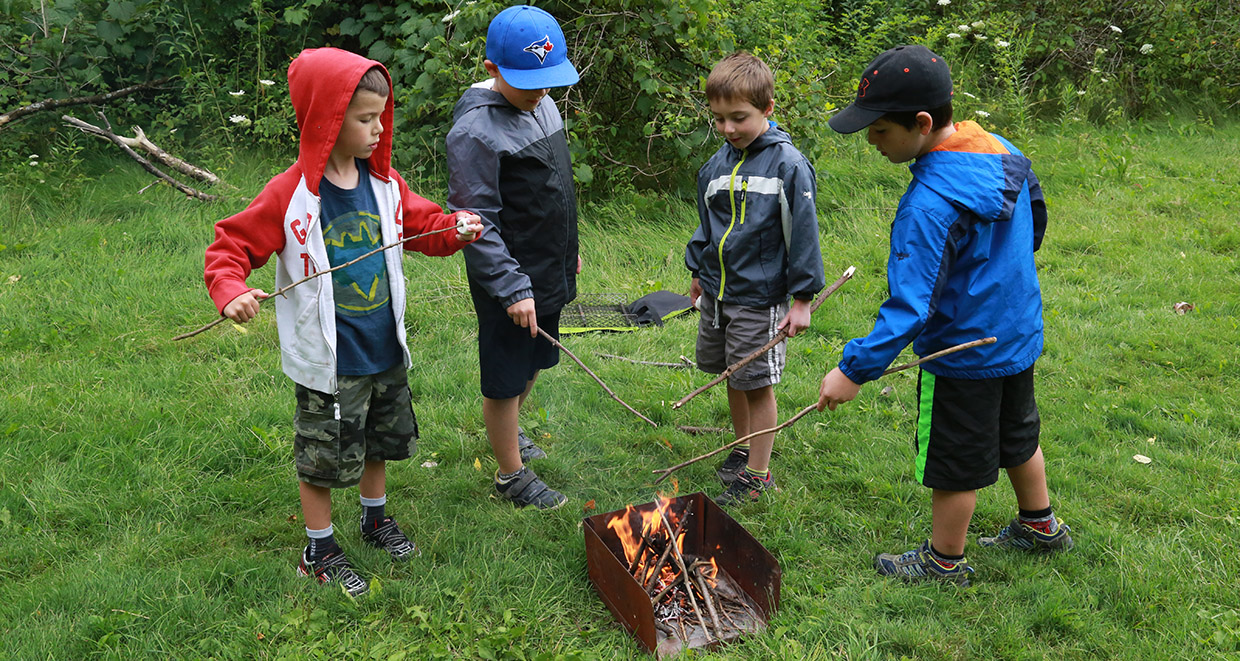 WHAT TO PACK
We are an outdoors based camp and will spend a good portion of the day outdoors. Clothing must be practical and comfortable. Please bring clothing and footwear that can get dirty. Make sure all personal belongings fit into one bag. Please carefully check the list below on what to bring to camp.
Please clearly label all your child's belongings with his or her name.
---
Every day ensure your child has:
Sunscreen SPF 30 or higher (please apply sunscreen on your child before coming to camp as well as packing it for them to use during the day)
An insect repellent containing DEET or Icaridin
Wide-brimmed hat
Reusable water bottle filled with water
Backpack
Closed-toed, flat-soled shoes (such as running shoes)
Lunch*
* Due to allergies of some campers, please only pack nut-free lunch and snack items.
---
On the first day of camp, you are welcome to pack the following in a separate bag and have your child leave these items at camp for the week. If your child does not leave these items at camp, please ensure that they bring them every day instead:
Long pants and a sweater
An extra set of clothes: shirt, socks, shorts, underwear
Rain gear: rain jacket, rubber boots
---
Optional items to pack:
Sunglasses
Inexpensive camera
---
Please do not bring:
Mobile phones (your leaders will have phones in case of emergency)
iPod, video games or other electronic devices
Money
Any kind of aerosol sprays
Knives or hand axes
---
CAMP HOURS
Camp hours are 9:00 a.m. to 4:00 p.m.
Drop-off is between 8:45 a.m. and 9:00 a.m. at northwest corner of the Visitor Centre parking lot.
Before and After care is offered at $25/child per day starting at 8:00 a.m. and ending at 5:00 p.m. A weekly Before and After care option is available for $100.
All campers at camp more than five minutes after the camp end time will be transferred to the After Care program; applicable fees apply.
Cancellation Policy
Cancellation requests received by Toronto and Region Conservation Authority (TRCA) more than 14 days before the start of the camp program will receive a 75% refund of the relevant program fees paid. Cancellation requests received by TRCA less than 14 days before the start of the camp program do not qualify for a refund. Please contact us in cases of sickness prior to the program so we can be in touch about rescheduling or refunding. Rescheduling is subject to availability. There is no refund for camp days missed or children opting not to participate in activities. Cancellation requests must be received in writing by email to vservices@trca.ca. Minimum registration numbers required for camp to operate. In the event TRCA must cancel the camp due to low registration or government order, a full refund will be issued.