Fall 2019
Posted by Victoria
The beginning of September saw us return to our Nature School among the pines. Our returning students greeted us and each other warmly, and then engaged in play, taking up — seemingly without a beat — where they had left off last spring.
Some of our new students made the adjustment into Nature School easily and for others it took a little time. But we're happy to report that saying goodbye to parents has become much easier — and while still a little challenging for some, it's not so traumatic anymore.
Following a routine has helped, for the children now know the sequence of our mornings. Play time is followed by snack and circle time, followed by adventure time on one of the trails, then clean-up and finally pick-up time! Knowing what to expect gives a little security for those who are anxious.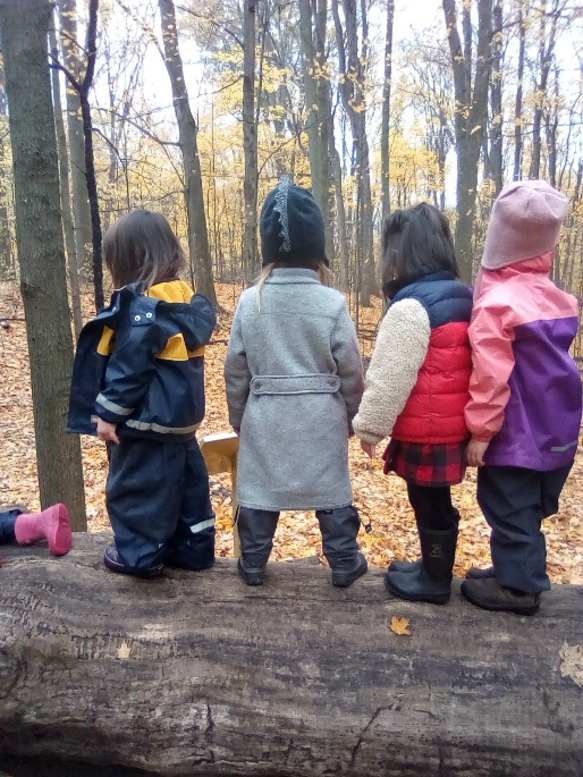 Sequencing happens a lot at Nature School. One of our favourite walks is down the Forestry Trail. Before we walk, we often tell the story of the trail. First, there's the log we can balance and walk across, then down the hill to the soft moss that lies on the logs and rocks.
Next, up the hill a bit to the plastic owl (who sometimes has a message for us), then up a little further and a look under the hemlock where the chipmunk and toad share space.
After that, we pass the wild cucumber, grapes, and elderberry. We take a quick look for acorns under the oak tree (sometimes Ms. Gill makes a whistle with an acorn top), and then we're back to our space in the pines.
Through this storytelling, the children understand the beginning, middle, and end of our adventure and can visualize it — a key stepping stone in the path to reading and reading comprehension.
At the tire swing and the climbing tree, sequencing becomes a way for the children to act fairly by establishing turns, learn patience while waiting for their turn, and show empathy for others by not taking too long a time when finally it's their turn. We might hear one of the children say, "M. is going first because she was here first, and second is K., and third is R." Understanding the position of a number, the fact that two comes after one and before three, is a prerequisite in learning arithmetic.
Through the abundance of Woolly Bear caterpillars this fall (we've been finding them everywhere) we've learned about the sequence of its life: from egg, to caterpillar, to cocoon to moth. And of course we're learning firsthand the sequence of the seasons as the warm mornings have been replaced by frosty ones.
It's been such a joy to get to know our new students and get re-acquainted with our returning ones. We are so excited to share with the children many more days of play, learning and exploration, and we look forward with excitement to seeing their growth and development. And now that we're all pretty much adjusted to the sequence of our mornings, our adventures will truly begin in our Nature School among the pines.