Learning in Nature Workshops
Beginner Naturalist Program
Join us for the 2023 Fall Beginner Naturalist programs at Kortright Centre for Conservation!
Experienced leaders will guide participants through hands-on exploration of a variety of topics over four sessions.
This program offers an opportunity to develop skills and build connections to the natural world.
Workshop Information:
The Junior Naturalist Series is open to youth ages 6 to 10. It costs $35 per session, or $120 if you purchase all four. Sessions run from 10:00 a.m. to 12:00 p.m.
The Adult Intro Naturalist Series is open to anyone 18+ and costs $40 per session or $140 if you purchase all four. Sessions run from 1:00 to 3:00 p.m.
Saturday October 21: Plant ID
Join us for an exciting session where we'll learn to identify the amazing plants that make fall so enchanting. We'll explore the unique features, colours, and shapes of local plants and the important roles they play.
Saturday November 4: Ancient Technologies
Learn about the four essential elements of survival: fire, shelter, water, and food. This session will cover a variety of topics including the art of fire by friction, shelter building, finding potable water, and foraging.
Saturday November 25: Birds & Binoculars
While fall migration may be slowing down, there is still an incredible array of resident birds that are preparing for winter! Let's meet these year-round feathered friends and have fun learning how to use binoculars to spot them.
Saturday December 16: Animal Tracking
Ever wonder what made that mark in the snow? Tap into your inner nature detective as we explore animal tracks and learn to read the stories left behind by animals.
Take Your Kids Outside Series
In this series, we train the trainer – that means you!
Learn valuable skills for taking children outdoors and engaging in meaningful curiosity based activities.
This hand-on series draws from Experiential and Nature Based learning. This series is open to any adult who regularly works with children – like ECEs – or any parent who is looking to gain more knowledge about getting their kids outdoors!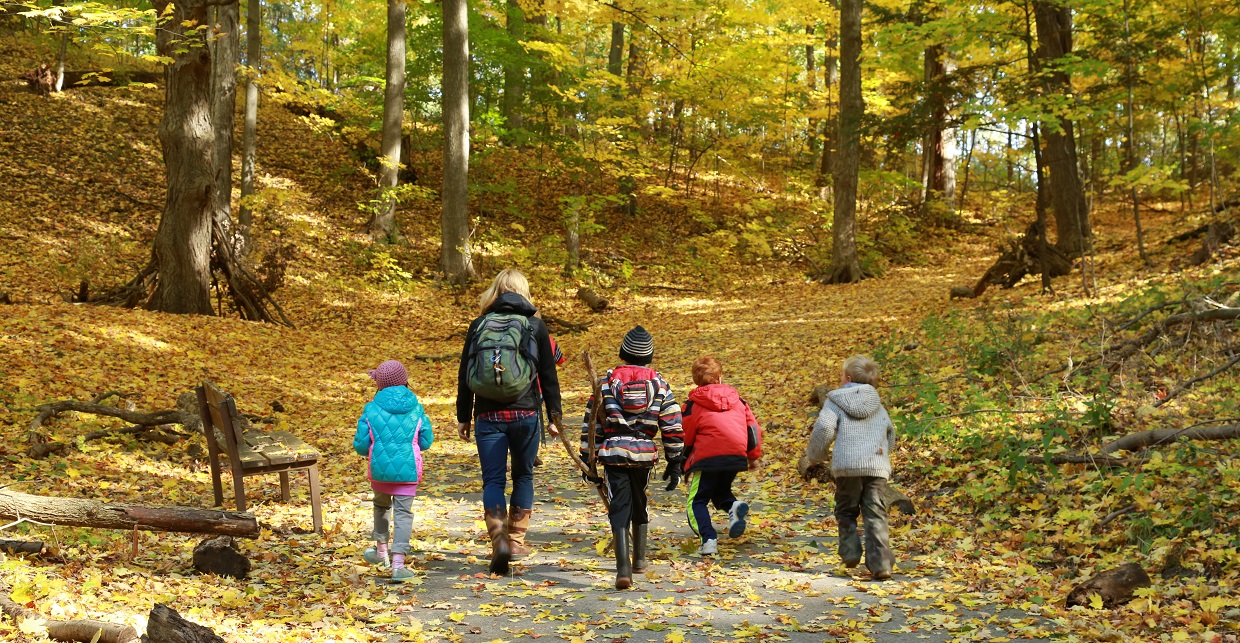 Workshop Information:
The Take Your Kids Outside Series is open to ECEs and Parents. It costs $100 per session, or $300 if you purchase all four. Sessions run from 6:30 to 8:30 p.m.
Tuesday October 24: Aquatic Adventures
In our second session, learn how to use local ponds, creeks and rivers for experiential based learning outdoors. We will help you get comfortable bringing children near water and even in shallow water. Explore how curiosity-based experiences around water will open up a vast array of opportunities for learning and exploration. Please bring an extra pair of shoes, socks and clothes.
Tuesday November 28: How to Plan a Hike
In this active workshop, you'll be introduced to the basic features found on most maps and practice orienteering skills. You'll learn how to teach basic wayfinding to children and how to apply these skills when planning hikes with your children. This is a great introduction to outdoor activities like geocaching and nature scavenger hunts, providing lots of opportunity for play based learning.
Tuesday December 12: Shelter and Fire Building
In our final session, we will explore how using temporary shelters and fire can make your all-season outdoor exploration sessions with your children fore comfortable. We will explore different techniques for creating shelter while children learn outdoors. We will also practice basic fire making skills while maintaining a fire throughout the program.
Cancellation Policy for All Workshops
Cancellation requests received by Toronto and Region Conservation Authority (TRCA) more than 14 days before the start of the program will receive a 75% refund of the relevant program fees paid. Cancellation requests received by TRCA less than 14 days before the start of the program do not qualify for a refund. Please contact us in cases of sickness prior to the program so we can be in touch about rescheduling or refunding. Rescheduling is subject to availability. There is no refund for program days missed or children opting not to participate in activities. Cancellation requests must be received in writing by email to vservices@trca.ca. Minimum registration numbers required for program to operate. In the event TRCA must cancel the program due to low registration or government order, a full refund will be issued.